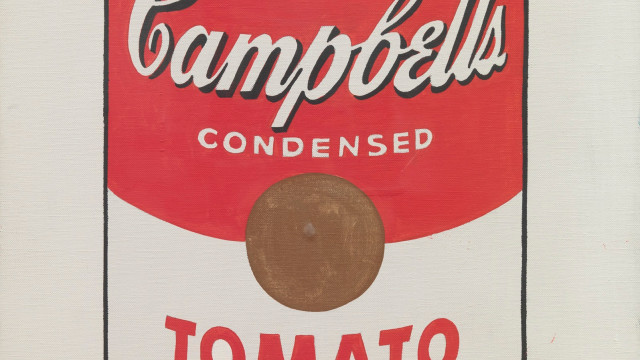 ANDY WARHOL & MY DAD
Growing up, there was always an abundance of food in the house, largely due to my dad's penchant for haunting the local supermarkets. He was highly systematic in this endeavor, first perusing the circulars, highlighting the specials, then, pocketing his wallet and collection of rain-checks, heading off to the store, where he would travel up and down the aisles with his jittering shopping-cart. There, he would delight in his ability to purchase a vast array of foodstuffs – ranging from bok choy (to satisfy his love of Chinese food) to baby food (because, you never know, my mom – at age 53 – might be expecting another baby) to Vermouth (after the baby arrived, he would certainly need a drink, preferably a martini, à la James Bond, shaken not stirred). He took particular delight in that strange species of display that catered to the cheapskates of consumers: a cart filled with dented items and cans deprived of their labels. If he happened to find one of these, he would usually commandeer the entire cart over to the closest check-out lane. At home, my brother and I, hungry for a dinner that wouldn't be forthcoming until after our dad had mixed his third martini, would examine the label-less cans carefully, giving them a shake or two, in an attempt to discern whether the contents were fruit cocktail (yay!) or lima beans (ugh). We grew to be quite adept at this sort of detective work. I imagine The Breakfast Club scene in which Claire, when prompted to display her special talent, applies lipstick with her cleavage. Given the same challenge, I suppose I could showcase my special talent of accurately guessing the contents of label-less cans.
My father was born in 1931, at the beginning of the Great Depression. His parents had emigrated from Finland to Chicago, and his father, who spoke very little English, worked as a cabinet-maker. My dad told me nothing about his childhood. The little I have learned was gleaned from my mother, who told me that he was sent to buy day-old bread from the bakery on the corner. And so this explains why my dad was an obsessive shopper, stacking can after can on the pantry shelves, buying food such as "bagel mix" that would almost surely never get eaten, just to have the security of knowledge that we had… plenty.
Pop artist Andy Warhol grew up under similar circumstances as my father: born in 1928 to immigrants (from Slovakia) of the working-class (his father worked in a coal mine) in an industrial city (Pittsburgh) with an overprotective mother. Not to mention that they were both hypochondriacs. Much is made of the way in which Warhol's screenprints of Campbell's soup cans bridge the divide between pop culture and high art. But isn't it also likely that Warhol, like my father, derived a certain sense of well-being from these supermarket shelves stacked neatly in an abundance of creamy comfort? The old-fashioned script of the Campbell's logo seems to reassure the consumer that this chicken-broth based product has always been around and – even more importantly – will always be. With stacks of these cans transplanted into your pantry, there is nothing to worry about, the message seems to read. Warhol magnified this message, enlarging it to 35"x23", and with it, magnified the assurance that all was well.